With studies becoming more subject-focussed in primary education, pupils are expected to do increasing
amounts of homework. As a parent, you should be informed of the amount of homework expected each term, and you will be encouraged to get involved.
Children are assessed for educational progress at primary school. In England and Wales this takes the form of 'SATs' – Standard Assessment Tests. Teacher assessments in English, Maths and Science are set at the end of Year 2, and external tests in the same three subject areas are taken by pupils at the end of Year 6 (Key Stage 2 SATs). The aim of SATs is to assess the child's academic strengths and weaknesses in order to develop a strategy and level for their education. Also 'teacher assessment' looks at the child's performance across the whole subject over a set period of time. Together, these can help parents to understand better the educational progress of the child.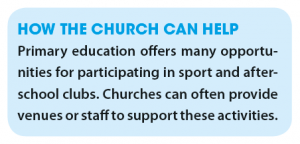 Alongside extra revision 'booster groups' provided for children who may be struggling in a certain area of the curriculum, you can help your children prepare for the SATs by encouraging them in their schoolwork and homework, and by letting them have time to relax and play as well. Many children get very anxious about tests, so praying together about them can be really helpful. It is important to help your children understand that testing is in part to help the teachers know what areas their pupils need more help in. Be mindful of the need to avoid putting undue pressure on children facing tests: they also need to know that you love them and are proud of them whatever their academic achievements. Praise effort and application as well as attainment, and support and celebrate their achievements in other areas to avoid seeming to favour knowledge (or the ability to do well in tests, which is not always the same thing!).
If you have any concerns about any issues at your children's school you should first speak to the child's teacher, followed by the deputy head (or year head) and then the head teacher.