All secondary schools have induction days at the end of the summer term where new pupils entering Year 7/Secondary 1 can visit the school, meet the teachers and explore the facilities. Schools also have detailed prospectuses which can be accessed via their websites.
Starting at a secondary school is always a key moment in a child's education. With most children moving from a primary school of just a few hundred pupils to a secondary school of a thousand or more pupils, the transition can be often be a testing time for children and parents. Going from being among the oldest children in a school to being among the youngest can be quite daunting, and along with finding their way to and around the large new school, your children will also encounter different teachers for different subjects.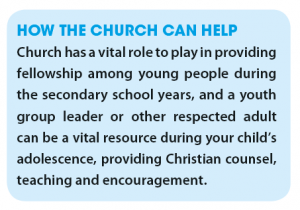 As a mark of a passage into adolescence, they will also be expected to take more responsibility for things like planning for each day's timetable; making sure they have the right books and equipment; and doing homework most evenings, which has to fit into their routine alongside other interests. They will also make new friends. All of which means that it may take some time for our child to settle into a routine in which they can prosper. Prayer, encouragement, conversations, and practical support from family, friends and your church are important at this time.
Secondary school is where children become teenagers. Amid increased homework, testing and exams, it's also where issues can arise such as stress and depression; talking about sex; pornography; online safety; talking about and using alcohol and drugs; having a mobile phone; and using social media. Helping your child to develop a strong work ethic, make good friends, communicate well, and resolve tensions and arguments is important at this time.