The period from birth to five years is known as the Early Years Foundation Stage (EYFS) and covers pre-school, kindergarten, nursery and early years education, including school Reception classes.
There is no legal obligation for children to attend nurseries or school until they reach the age of five, but working parents often find that nurseries provide an ideal combination of care and education. Often children attend nursery for just one or two days a week at first, before attending for longer periods once they have settled in.
All three and four year olds in England can get a number of hours of free early education or childcare per year. Some two year olds are also eligible.
Issues and options:
When choosing a nursery, it's important to look for:
how patient and caring the staff are;
how happy, settled and friendly the children are;
what kind of resources, toys and equipment are available; and what condition the building and play area are in.
Where there is a high demand for limited places, it is advisable to register your child to attend the nursery as soon as possible
after birth.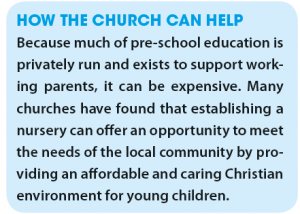 Pre-school or early years education can play a key role in a child's development. Generally, it can help children to socialise, learn through play and grow in creativity. However, some children may not be ready for such interaction, and each child should be assessed on whether they will thrive in a formal nursery environment, or whether a less structured playschool-type arrangement may be a helpful transitional step.
Forming bonds of friendship is very important for nursery age children, and it's always helpful to talk to nursery staff and encourage the child to participate in group activities in order to build relationships. If your child is unhappy, you can remove him or her at any time from the pre-school. However, it is wise to first establish the source of the unhappiness before making a decision to remove the child.