"For you created my inmost being; you knit me together in my mother's womb. I praise you because I am fearfully and wonderfully made; your works are wonderful, I know that full well" (Psalm 139. 13-14).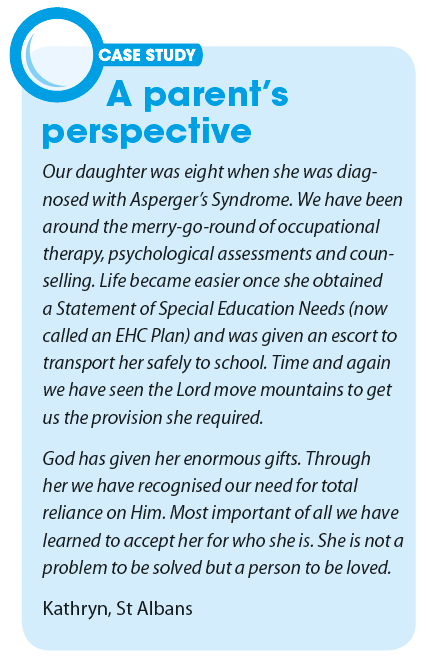 Parents of children with special educational needs or disabilities need to find the right help and support. Whether this help needs to be temporary or lifelong, alongside disability, there are four areas that define special needs in education:
thinking and learning;
social, emotional and mental health;
communication and interaction;
physical needs (including seeing and
hearing difficulties).
About two per cent of children in the UK have challenges which require a level of support additional to what the school ordinarily provides, and are given an education, health and care (EHC) plan. EHC plans identify educational, health and social needs and set out the additional support to meet those needs. They are designed to help you make informed decisions about the most appropriate form of schooling, including whether to choose a mainstream school with additional support or a special school.
Although schools are supported to access funding for children with EHC plans, some children may develop better without being
labelled in this way. It is important to gauge whether assessments are necessary for your child. If in doubt, talk to your GP, who has no vested interest in the question. If your child does not have special educational needs, see our FAQs for ideas
on how to reach out to those who do – and to their parents.