As your child approaches school age, you will need to choose a school or consider home education. Education provision across the UK is diverse, and when choosing a school for your child it is important to first make enquiries with parents of other Christian children to establish the ethos of the schools they are familiar with and the nature of the teaching and learning communities. If a school has a formal connection with a local church, it may also be helpful to contact the church leader to enquire about the depth of involvement in the life of the school. It is also important to review the information provided on school websites. This will help you to understand the ethos of the school, the values it promotes, the virtues it seeks to cultivate, the depth of home-school relationships, and the attainment levels of pupils. Home-schooling, or home education – the
education of children inside the home – is also a legal option for parents in the UK. It takes place either within a single family
unit or with children from a few different families, and is usually conducted by a parent or tutor. Visit our resources page for some websites that can help you think through whether this is the right course for your family.
Making your choice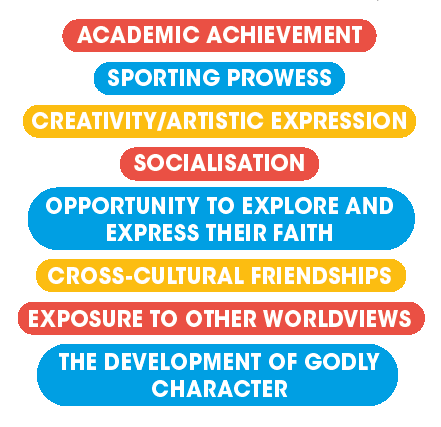 When deciding when – or whether – to send your child to schooling outside the home, there will be many factors at play, to do with location, cultural expectations, financial need, philosophical stance and simple personality and preferences. Whether you have the luxury of being able to choose your children's schooling provision or not, you might want to think about which of the aspects on the right matter most to you.
Are these things that the school should offer? Or do you think that you should be providing them outside of the school day?
Understanding these expectations you have will help you choose and evaluate schools and guide your children through
the challenges. With all of this in mind, three helpful questions to ask yourself are:
What are the school's real values?
How will the school shape my child's
spiritual development?
What Christian support is available?
The case studies on this website provide stories from parents whose ethos and values led them to make very different decisions about how they wanted their children to be educated.