Prayer Spaces in Schools is an exciting initiative of 24-7 Prayer, which enables children and young people, of all faiths and none, to explore faith and spirituality in a safe, creative and interactive way. Taking a broadly Christian perspective, prayer spaces give children and young people an opportunity to develop skills of personal reflection and to explore prayer in an open, inclusive and safe environment.
A prayer space is usually a classroom-sized area in a primary or secondary school that has been transformed for a few days or a week with a range of creative activities that encourage personal reflection on issues such as forgiveness, injustice, thankfulness, big questions, identity and stillness. Teachers bring their students for a subject-lesson in the prayer space, and students are also invited to visit the prayer space voluntarily, during their breaks and lunchtimes and maybe after school.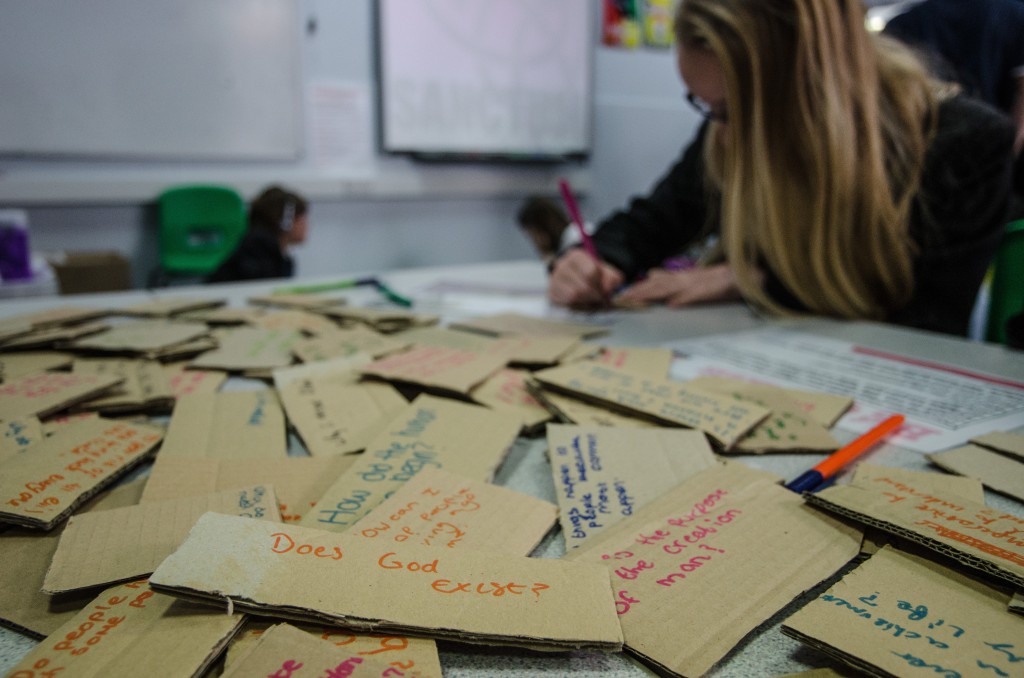 Prayer spaces are run by a trained team from a local church or organisation as a service to the school. Prayer spaces have been welcomed and praised by Head teachers, teachers and parents of different faiths and of no faith as a valuable contribution to the curriculum, as well as assisting in the statutory responsibility to support the spiritual and moral development of the students.
What students, staff and others say:
"I've never seen prayer displayed or experienced like this before. It's made me realise how many different ways prayer can be appreciated. It's opened up religion into my life again. Thank you!" Year 12
"I don't even believe in all that stuff, but I could feel God in there!" Year 9
"I feel great when I am in the prayer room. I am alive! God has spoken to me." Year 6
"I have not experienced anything like the effect of this project before in my career – it was a privilege to work with all those involved and a deeply humbling experience." Head of RE/PSHE, Surrey
"Prayer Spaces in Schools is a pioneering initiative providing young people with a dynamic, non-threatening environment in which to explore the Christian faith." Rev Nicky Gumbel, Alpha International
For more on what prayer spaces look like, and the impact that they have on school communities, please watch our promo video or read some of the stories our website. For any enquiries, please contact us on info@prayerspacesinschools.com.
Prayer Spaces in Schools Full, HD from Prayer Spaces In Schools on Vimeo.